Strengthen your stock and keep your flock in optimal health with a nutrition program from the BioZyme® family of brands. Providing balanced vitamins and minerals to your sheep 365 days a year is vital to ensuring the success of your flock. Combining the DuraFerm® Sheep mineral and Vita Charge® supplements will help ensure a successful and profitable sheep operation.
Two Options for Balanced Nutrition
BioZyme offers two supplements that, when used together, support and meet sheep dietary needs and promote optimal flock health.
DuraFerm® Sheep Concept•Aid®
Get your ewes bred and keep them bred with DuraFerm Sheep Concept•Aid®, a free-choice vitamin and mineral supplement designed to support reproductive success.
DuraFerm Sheep Concept•Aid provides the balanced levels of high-quality vitamins and minerals required for growth, breeding and lambing. It specifically targets cycling, embryo production and conception using organic trace minerals when fed 30 days prior to lambing through breeding.
DuraFerm products contain organic zinc and manganese, selenium yeast and high levels of vitamin E to support maximum reproduction and health. In addition, all Duraferm products contain AO-Biotics® Amaferm®, a prebiotic research-proven to enhance digestibility.
Why? Well, over 100 studies in the past 50 years have proven Amaferm results in 9% more gain and 5% more feed efficiency when included in sheep diets.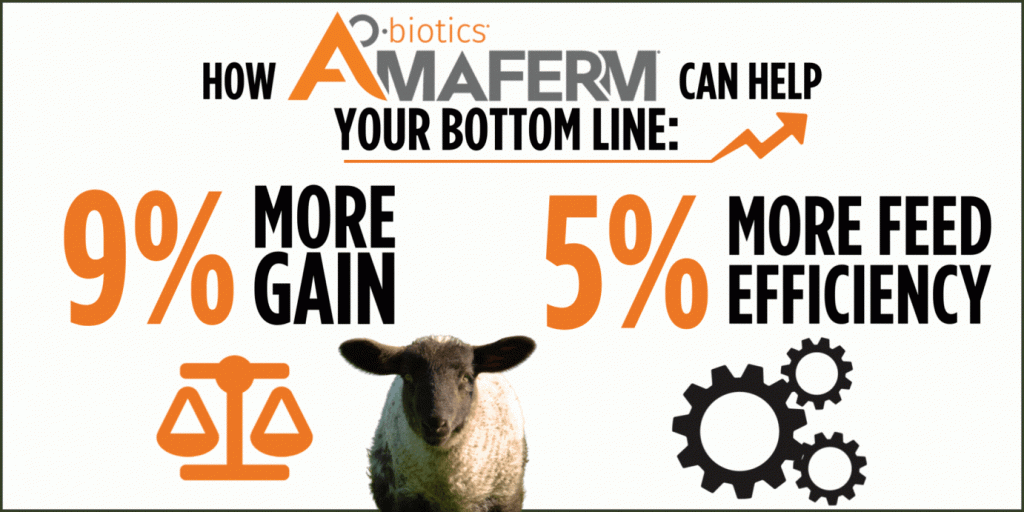 "Amaferm is key to keeping your flock healthy and maintaining the integrity of the gut. We know that 70% of the ruminant's immunity function starts in the digestive tract, so a healthy gut leads to a healthy animal," said Chris Cassady, Ph.D., BioZyme Senior Manager of Technical Sales.
Consider Your Climate
Producers should consider a combination of two products based on their climate to optimally meet sheep dietary needs. Two loose minerals exist: DuraFerm Sheep Concept•Aid and the DuraFerm Sheep Concept•Aid HEAT® mineral.
The primary difference is the additional HEAT package in the product line-up. Both will serve as a complete vitamin and mineral supplement and include Amaferm. However, the HEAT mineral helps to support digestive health in temperatures 70 degrees or hotter.
The HEAT technology consists of a combination of essential oils and garlic to support animals when heat and insects are a challenge. The garlic is a natural insect deterrent, something sheep producers should be aware of with mosquitos and Cache Valley Virus causing abortions.
One of these two minerals should be fed year-round; the DuraFerm Sheep Concept•Aid HEAT might be considered to be your sole mineral program in the South, where temperatures and insects are challenges.
Provide Added Protein
The other DuraFerm product to consider is the DuraFerm Sheep Concept•Aid Protein Tub. This cooked tub contains all the benefits of the loose mineral and contains 16% protein, for an added boost during the critical times of year like breeding and lambing.
To meet sheep dietary needs, consider adding the tubs to the flock's nutrition program. This should happen prior to breeding and again at lambing for some added protein to optimize health during reproduction.
The tubs also offer an added benefit during the lambing season.
"The ewes will benefit from that added protein at lambing, and their lambs will also start licking those tubs and getting Amaferm in their diet. That should help get them on creep feed faster and help them grow more efficiently," Cassady said.
Post-weaning, the loose mineral should be adequate again until breeding, unless you run a lot of sheep in big country where the tubs simply offer added convenience.
Vita Charge
Your sheep will experience stress, and often at the most inconvenient times—lambing, weaning, hauling, or sale or show time. You need them to stay on feed and water to ensure they are at their healthiest. The best way to meet your flock's dietary needs is with the Vita Charge® line, which also includes Amaferm.
Vita Charge is a line of fast-acting, multi-specie livestock products for support before, during and after stressful times. Take a proactive approach to keeping your flock healthy with Vita Charge, available in both liquid and gel form.
Add Rapid Resilience with Vita Charge
Vita Charge® Liquid Boost®, designed for all livestock, helps provide immediate support to the animal's digestive and immune systems.
In addition to Amaferm, it contains MOS, which helps normalize gut microflora and supports the immune system. Liquid Boost works in the presence of and does not interfere with antibiotics. Its palatable flavoring helps create consistency in taste of any water source.
How Vita Charge Gels Help
To meet your sheep dietary needs, three Vita Charge gels are available to help in a variety of scenarios.
Provides immediate support to the animal's digestive and immune system.
Supports normal digestive function during occasional diarrhea/scours, and it contains electrolytes to support rehydration.
Includes Amaferm and our HEAT technology. HEAT technology incorporates a combination of essential oils, that support digestive health and promote intake when heat is a challenge.
"Using any one of these Vita Charge products with the added Amaferm, while also feeding DuraFerm to your flock, is like an added insurance policy," Cassady said. "Vita Charge helps jump start the appetite and keep your animals drinking and eating, which keeps their system healthy, promoting overall health of the animal."
Flock Nutrition Requires Balance
Providing DuraFerm and Vita Charge is a great way to strengthen your stock and be proactive in your nutritional and animal health program for your flock. Provide your sheep with the nutrition they need to stay healthy, breed and perform, 365 days a year with DuraFerm. Give them the extra Amaferm they need to maintain their appetite and drive water intake with Vita Charge.
A healthy sheep is a happy sheep, and a flock of those will help you increase your bottom line.
To learn more about DuraFerm or the BioZyme family of brands, visit www.duraferm.com.
Why wait? Find a dealer in your area to get started with strengthening your stock year-round.